A Publicists Ultimate Guide to Strategic Media Relations 101
How can I use this media relations guide for my public relations campaign?
As a public relations strategist, I have handled media relations campaigns for companies for over a decade.
I wrote this expert guide for publicists looking to increase best practices and for clients looking to understand how the media really works to form better relationships with their PR firms.  The one thing I see time and time again is the onboarding period and steep curve with people who are working with a PR firm for the first time.
"PR is SO much work. You never told me how much time this was going to take when I hired you!"
The goal of this guide is to help you navigate media relations so that you better understand how the media works. We believe that there should be no surprises when it comes to PR.
When there is transparency in the process of how the media really operates, PR clients can develop more realistic campaign expectations, and it can benefit your company by saving you hours of wasted time spinning your wheels trying to figure out why you spent time answering queries that no one is answering.
Plus, when you are more educated about how public relations works, you will have a better relationship with your PR agency.  Too many clients/agencies have strained relationships and we believe it stems from the central problem of people not really understanding how the media works.
Too often, PR firms are blamed for things outside of their control.
In The Ultimate Guide to Media Relations, I am going to teach you:
How the media works
What the role of a PR firm is
Client responsibilities when a PR firm is retained
How to work with your PR firm so you get the best traction
Media relations best practices
Media Relations etiquette
PLUS learn how to answer questions from a reporter.
What is Media Relations?
Media relations is the specific practice of handling media requests with the press, while public relations refers to the management of a company's relationship with the public and all external stakeholders. A Director Of Media Relations is responsible for all contact with the press on any earned media opportunities.
What is the difference between public relations and media relations?
Media relations is a subset of public relations.
For a long time, media relations was the largest component of PR because traditionally, the media were the primary, trusted gatekeepers to information. It took insider connections to get the media's attention. All of that is still true today, but parts of it are very different.
Newsrooms are shrinking and social media has democratized the publishing of information. There are far more PR practitioners in the U.S. than journalists.
As a result, while media relations is still part of the mix, it is usually a smaller component of most public relations plans. It is also significantly more challenging to get the attention of journalists than it ever has been before! That is why learning how to pitch the media and what makes a story newsworthy is so critical in today's medial landscape.
WHY YOU NEED MEDIA RELATIONS
Media relations is the most critical part of a PR campaign. Other public relations activities such as community outreach can be mastered without intricate knowledge of how the media works. However, media relations is the most specialized component of public relations. In order to understand why you need media relations, you first need to understand how publicists and journalists work together on stories and segment.
How do publicists and journalists work together?
Journalists and publicists work closely together on interviews, articles, and broadcast segments.  Good publicists can make journalists lives easier when they are on deadline by providing access to interview opportunities with subject matter experts and key opinion leaders that may otherwise be hard to reach.  Additionally, PR firms have access to media contacts that many people do not have. While you certainly could try to foster these relationships on your own, it would take a considerable amount of time, effort and media savviness to navigate the changing landscape.
What does a media relations agency do?
A media relations agency is responsible for handling all interview coordination between the source and the media.  A media relations agency also makes sure a journalist receives requested high-resolution images or a sources executive biography.  They are also responsible for making sure your PR efforts aren't sabotaged to ensure your best chance of coverage in the media. Ideally, a trusted media relations specialist provides authoritative sources to journalists and producers who are on quick turnaround times or tight deadlines.  Publicists and media relations specialists understand the sense of urgency that comes with deadlines and filing stories and are able to give the media what they need fast.
THE IMPORTANCE OF MEDIA RELATIONS 
Why is media relations important for strategic public relations?
Journalists and producers are working on several different stories and segments at any given time and your client is not always their top priority.
If you don't understand media relations and PR etiquette, you run the risk of never having your clients quoted in that media outlet again. If a journalist has a bad experience with your source, they may be likely to share that negative experience with other journalists. Is that really how you want to be perceived simply because you didn't take the time to understand the language of the media or how things work?
There are so many intricacies that go into Public Relations. PR is an art. It is a craft. This is often why I do not recommend DIY Public Relations. When pitching is handled through a Media Relations Agency, the communication is often clearer, and the ball doesn't get dropped. Often times, a PR firm may go back and forth with a journalist up to 20 times fact-checking a one line quote in an article. After the fourth or fifth email, people who attempt the DIY PR route usually stop replying to the journalist and risk getting cut from the story entirely. PR firms don't let that happen.
MEDIA RELATIONS ETIQUETTE
One of the biggest mistakes companies make with media relations is they do not follow basic etiquette rules when communicating with the media.
Follow these media relations etiquette rules when working with reporters
3 media relations etiquette rules to follow when publicists work with journalists to ensure success
Thank the reporter for media exposure. It is incredible how many publicists skip this simple step. Too often, publicists look at an article from the perspective of how their client will see it and forget to look at it from a perspective of gratitude to the journalist who included their client in the first place. Journalists work hard on stories. If a journalist is giving your client editorial space or digital ink, say thank you for the coverage instead of complaining that the link wasn't right or the quote was cut short.
Act as a Media Gatekeeper. Media Relations Strategists must act as the gatekeeper between the client and the media at all times. The best public relations professionals value their relationships with the media first and foremost. They believe clients come and go, but the media stays. If you burn through those relationships with the media for a client who may or may not keep you retained, you ultimately will damage your reputation as a publicist. However, if you know and respect the rules and filter PR requests, journalists will want to keep working with you, and clients will learn over time that you know what you are doing. Hopefully, they will begin to understand why you say no to certain requests and will begin to trust your strategic media guidance on topics such as how to stay relevant to the media.  If you are continually being pushed by a client to pitch stories you know are not newsworthy, it may be time to reevaluate the engagement.
Market Your Media Coverage. Promoting your earned media exposure and press mentions on social media is critical to amplify the value of the press placements for your business. Do not forget to share the media coverage on social media platforms including Facebook, Instagram, Twitter, LinkedIn and your blog. Journalists want to drive traffic to their articles. If they included your client in a story, return the favor by tweeting a link to the article and directing eyeballs to it. This small social media act of gratitude can go a long way in ensuring your client is used again as a source. Always extend the value of your media coverage through a strategic cross-channel digital marketing strategy. Being featured in the media is irrelevant if no one knows about it!
How to Answer Questions From a Reporter
Do not provide one-word answers. Provide the journalist with thorough interview answers.  I won't send a journalist interview answers from a client that are one line replies, and neither should you. I will go back to my client and ask them to re-do the answers because I know what a journalist is expecting and want to give them lengthier answers that they can pull good quotes from. Additionally, if the answers are missing the mark on the question the journalist asked, I will also ask them to re-do the answers before submitting. A good publicist knows what a journalist needs and can anticipate the needs of their editor as well. They may even have worked in journalism prior to becoming a publicist, which further helps them to understand what is truly newsworthy.
Watch the clock. Do not say you will provide interview answers by a certain time and then provide them after the journalist's deadline. If your client bails on the answers, let the reporter know ASAP and, if possible, provide the reporter with another source. Do not leave them hanging. Additionally, when you are replying to queries from reporters, time is of the essence. For every one press query posted, reporters receive hundreds of responses. You want to be one of the first to reply.  If clients are asking you to submit queries hours later or after a journalists deadline has expired, don't do it.  It reeks of PR amateur hour.
How Do Journalists Conduct Interviews?
Reporters have different methods of conducting interviews. Some journalists want to speak by phone, while others want to send questions to sources by email. Publicists are responsible for figuring out the journalists preferred interview format and coordinating interview times, answers, and any additional information a reporter needs from a source. Often, the journalists preferred interview format may conflict with the clients preferred interview format.  This is always a challenging and volatile situation to navigate through.  It never gets easier.
STRATEGIC MEDIA RELATIONS
A successful media relations strategist knows how to walk the tightrope of the client's needs and the medias needs on a daily basis. The goal is to mitigate the level of stress and try to strike a balance.  You must be able to work in a high-stress environment daily to succeed in media relations. Even though clients hire you to get press coverage, they may get perturbed by the daily disruption of media requests. Remind them of why they hired you, and that this is all part of the process of getting earned media coverage. Yes, PR is a lot of work from the client side and from the agency side. PR isn't for the faint of heart. There is a reason why Pubic Relations is continuously listed year after year as one of the most stressful jobs in America.
Remember, being quoted in the media or mentioned in an article is not your right. It is a privilege and an opportunity to be featured in media outlets. It is called earned media for a reason. Earn it!
Ready to increase media exposure for your business? We can help with media training, media relations consulting, media relations strategy guidance and execution of ongoing media relations work with national media outlets on behalf of your company. Contact us today to discuss how we can help get you more interviews and get you booked, fast!
Media Relations Checklist 
Help them help you

Respond to press queries in a timely manner

Provide thought-leadership content to your PR firm

Do not give one-word answers

Let your PR firm know newsworthy topics you can comment on

Dedicate at least 1 hour per day to working with your PR firm

Do not flake out on media commitments

Do not reschedule interviews with the media

Do not add PR firm contacts on your personal social media (unless you want to royally irritate the PR firm)
PR Agency Pricing Structure
Media Relations/PR Costs
How much should I pay for PR or media relations and how much do publicists cost?
Media relations agencies work on a fixed retainer model. Prices can start at $5k monthly to $25k monthly depending on scope of services and desired press coverage goals. For example, are you interested in local coverage, trade coverage or national press coverage? That will determine the cost of media relations. Additionally, the cost of the service will depend on if you are hiring a freelancer or a large agency.
Public Relations Pricing
Can I afford a PR campaign? How much does Public Relations cost?
People often ask, "Can I really afford a PR campaign?" It is important to understand there are two costs involved in a PR campaign: the cost of the PR firm, and the cost of your time. Most people allocate a budget for the firm, but they do not properly allocate the time to work with the firm they hired. Look at what your billable time is worth by the hour, multiply that by at least one hour a day for every day of the month, and factor that number into your cost.
Should you hire a media relations specialist?
If you cannot spend at least one hour per day working with a media relations agency or PR firm, you should not hire a PR firm. Here is a list of 10 reasons why you shouldn't hire a PR firm in addition to not having the time to work with an agency. Retaining a publicist is a massive amount of work. You must be willing to put in the time to give the firm what they need on a consistent basis so they can do the job you retained them to do. Please think about his before you hiring a PR firm. We see way too many people hiring PR firms but then ghosting the firms when they need to give them the necessary material to do the job they hired them to do.
TAKEAWAYS
MEDIA RELATIONS TIPS
Publicists and media relations strategists provide access to expert sources.
Journalists write the articles that the public relies on.
Publicists and journalists must work together and respect each other's skillsets in the process of story creation or disaster can follow.
Always have a media relations strategy before reaching out to the media.
As a result of reading this guide, you have hopefully developed  a better understanding of the time requirement it takes for PR, and have gained new ideas on how to write press worthy content that will actually get picked up by the media and has a chance of turning into national media coverage success!
Most companies who retain a PR firms receive no formal training on how to actually work with the firm or how to write content that will get picked up. We hope this guide will better serve you in getting the maximum ROI out of your Public Relations firm. If you have tried all of our tips and still aren't seeing PR results? Consider contacting us to boost your media relations campaign.
MEDIA RELATIONS RESOURCES
The Ultimate Guide to Prepping for Media Interviews 
Insider's Secrets to Crafting The Perfect Pitch 
10 Ways You're Sabotaging Your Chance of Media Coverage 
PR Don'ts: 11 Ways to Annoy A Journalist 
Top 10 Signs You Shouldn't Hire A Publicist 
How To Stay Relevant To The Media 
How To Maximize National Media Exposure 
Pitch Perfect: How To Pitch The Media 
MEDIA RELATIONS AGENCY SERVICES
There are still things a great media hit can do that nothing else can! One feature interview in the national media could result in thousands of earned media impressions for your business.  Ruby Media Group is primarily a media relations driven agency. Other components of public relations are important, but we believe media relations should be at the top of any strategic public relations campaign, first and foremost. If you have tried PR, but can't garner results from the media on your own, it may be time to call a media relations specialist. Our media relations firm has secured hundreds of impressions for clients over the past 12 years in national media outlets.
Contact us today to discuss a media relations plan for your business. There are many PR firms who focus more on community engagement, and do not deliver when it comes to media relations results (despite promising to!). We are not one of them. Our numerous PR case studies can show you a sneak peek at the massive earned media wins for clients.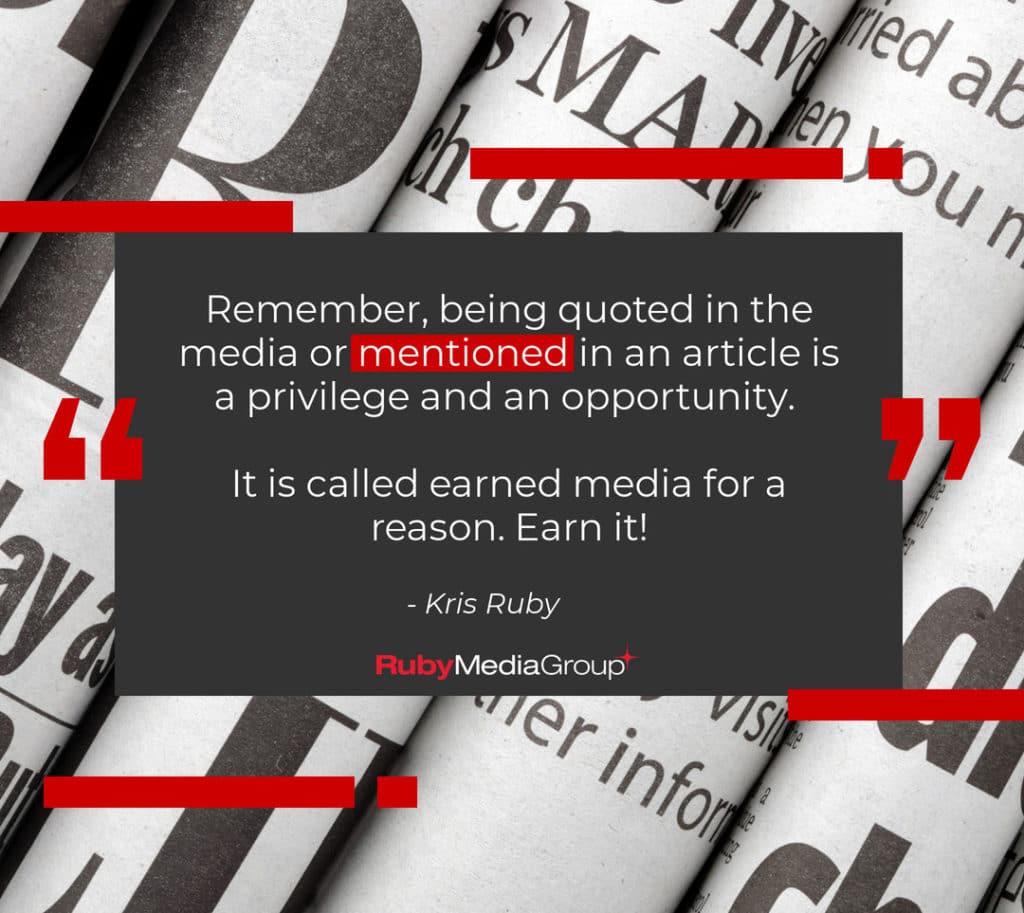 All content on this web site is owned by Ruby Media Group Inc. © Content may not be reproduced in any form without Ruby Media Group's written consent.  Ruby Media Group Inc. will file a formal DMCA Takedown notice if any copy has been lifted from this web site.